Are you celebrating a birthday? Partying with the bachelor or bachelorette? Maybe you want to take some clients out or foster friendly competition between employees.  Even if you're just holding a get-together, these packages will inject some adrenaline into your event. If you are looking for something for the younger crowd (10-13 years old), please view our Kids Birthday Party options. If you're planning a bigger event, check out our Event Planning Guides (found at the bottom of this page) or give us a call.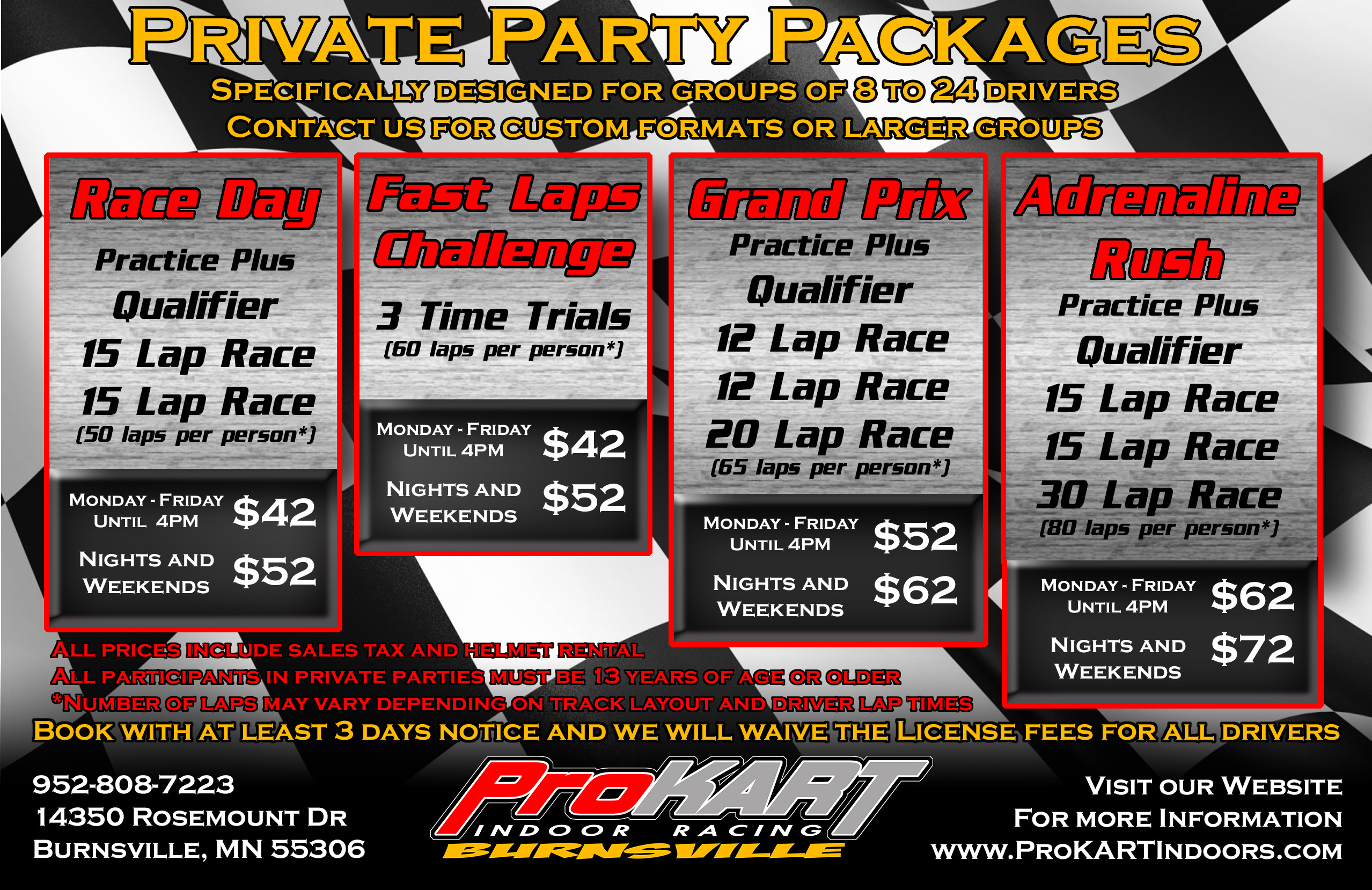 Our variety of Private Event Packages are designed for groups ranging from 8-24 drivers. No matter the group size only racers from your event will participate in the races, although other groups may be in the facility at the same time as your group. With prices ranging from $42 to $72 per person, there is an option for any group at nearly any budget.
Book with at least 3 days notice, and ProKART will waive the license fees for all drivers!
After a drivers meeting, all participants will head to the track for an 8-minute combined practice/qualifier to get acclimated to the track and determine starting order for the heat races.
The Race Day Package: Includes 2 heat races. The better you qualify, the better your average starting position. Overall winner is determined by the best average finish.
The Fast Laps Challenge Package: Includes 3 time trial races. Races are scored by best lap times. An average racer will get about 20 laps in each time trial. This package is best suited for younger groups or groups with a wide range of skill levels. 
The Grand Prix Package: This package starts out just like the Race Day, but has slightly shorter heat races. A longer 3rd heat is added as a main event, in which the starting order is determined by the point standings after Heats 1 and 2. All heats count towards the final standings, with the final being worth extra points. This is our most popular package, and is suited for groups that want a multi-round racing experience.
The Ironman Package: A true test of mind and body. Includes a practice/qualifier and a 50-lap enduro. This single endurance race format will reward drivers that can not only run a fast lap time, but can keep pace throughout a much longer race. THIS IS A TRUE PHYSICAL TEST! This package is suited for those that want a challenge and is NOT recommended for those who are not in good physical condition.
The Adrenaline Rush Package: Our most exciting option, this package starts out exactly as the Race Day, however this time a 3rd "Mini Enduro" is added as a feature event. All heats count towards the final standings, with the final being worth extra points. The driver with the most points at the end of the event is the champion! For the group that wants the full experience and doesn't mind working up a little bit of sweat.
For race details and pricing, please view the Event Planning guides below. Guides are available for each location, so please view the guide for the facility you plan to visit!